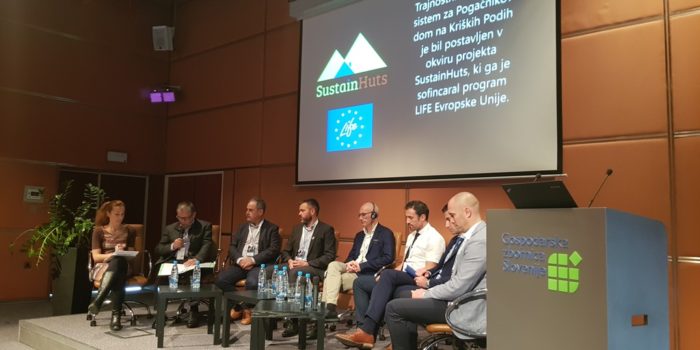 How to achieve sustainable energy supply of mountain huts
New technologies can bring new value and move society in the desired direction, said Dr. Marjan Rihar from the Electronics and Electrical Industry Association at the Chamber of Commerce and Industry of Slovenia (GZS), who also wants to further strengthen the link between R&D institutions and the economy. An event organized at GZS organized by the Development Centre for Hydrogen Technologies (RCVT), under the leadership of MSc. Tadej Auer, has provided examples of good practices in energy supply of mountain huts in a sensitive mountainous world, including the European project SustainHuts which is co-financed by the LIFE program.
Incorporating hydrogen technologies into mountain huts is a novelty and there are certainly cleaner ways to supply mountain huts with electricity produced by diesel and gasoline generators, said Pedro Casero Cabezón from the Spanish private foundation for development of new hydrogen technologies Fundación para el Desarrollo de las Nuevas Tecnologías del Hidrógeno en Aragón (FHA), which participates in the SustainHuts project. The main objectives of the project, co-financed by the European Union (EU) through the LIFE program (LIFE15 CCA/ES/000058), are to improve the sustainability of mountain huts by including renewable energy sources, increase energy efficiency and to additionally thermally insulate the mountain huts. The project includes ten mountain huts in four European countries – two of which are in Slovenia – which will house 25 different technologies, ranging from small wind farms, photovoltaics, small hydropower plants to hydrogen technologies, and one of the cottages is also being tested for hydrogen storage. Pedro Casero Cabezón explains that although the project should be completed in June 2020, it has been extended to June 2021. The overall objectives of the SustainHuts project are, among other things, to reduce CO2 emissions by 10 tonnes per year per hut and to reduce energy consumption by 20%.
Hydrogen storage at two thousandth meters above sea level
Among the mountain huts, Pedro Casero Cabezón highlighted the Bachimaña mountain hut (Spain), which lies at 2,200 meters above sea level, has 80 sleeping accommodations and has been in operation throughout the year since 2012. The mountain cottage is currently supplied with electricity ten months a year from a small hydroelectric power plant (30 kW), two months with 73 kWh batteries combined with diesel generators. To exploit the surplus of renewable energy sources, this project will demonstrate the generation of hydrogen with electrolysis and through the direct electrochemical conversion of hydrogen back into electricity by using fuel cells (1600 W). Even greater challenge was storing hydrogen. Because of the price, they opt for carbon fiber gas cylinders (18 cylinders of 50 litres) which will be used for seasonal energy storage of the energy surplus from renewable energy sources. These hydrogen technology components (electrolyser, fuel cells, etc.) should be installed as early as November of this year, but due to delays in production of components and bad weather conditions – there was a ban on flying the helicopter due to snow conditions – the installation was postponed to next year.
The potential for reducing the environmental emissions of mountain huts in Slovenia
Slovenian mountain huts only operate three to four months a year, which is a limitation for the integration of hydrogen technologies; however, this does not mean that there is no possibility of reducing or replacing the fossil fuels in our huts, said Assit. Prof. Dr. Mitja Mori from the Laboratory for Heat and Power (LTE) at the Faculty of Mechanical Engineering, University of Ljubljana (UL). After an environmental analysis (LCA analysis of operation phase), there is great potential for reducing the environmental emissions of mountain huts in Slovenia, explains Mitja Mori. The first step is to reduce the energy required for operation (insulation, control & regulation, educating the staff), followed by the installation of renewable energy sources (RES); however, emission-free operation is not possible, emphasizes Mitja Mori. Such a project is already underway at mountain hut Pogačnikov dom (Kriški podi), where energy renovation has already been carried out, and a replacement of the diesel and petrol generator with a photovoltaic power plant is planned, which will provide 90% of electricity and 10% will be contributed by a wind turbine. According to LCA analysis, these measures will reduce CO2 emissions by 44% and reduce NOx by 42%.
Hydrogen busses in Velenje to support sustainable development in the region
Niko Natek from the Energy Agency of the Savinjska, Šaleška and Koroška (KSSENA) presented a project for the development and realization of a long-term sustainable system for the production and use of hydrogen as an alternative energy vector for transport in the Šaleška Valley. The project will establish an infrastructure for hydrogen technologies in the Velenje and Šoštanj municipalities, and the production of hydrogen at the site of the Šoštanj thermal power plant (TEŠ). The first phase of the project envisages the implementation of hydrogen-powered buses, which will also require the construction of hydrogen filling stations, explains Niko Natek. Funds have already been raised to buy six hydrogen-powered buses; each bus will cost 650 thousand euros. According to the interlocutor, at the beginning of the project, they also planned to buy hydrogen powered cars, but have delayed the purchase in the future. The construction of the hydrogen filling station will cost more than a million euros, where the electrolyser unit alone will cost 750 thousand euros. Co-financing has been approved by the Slovenian Fund for climate changes for the purchase of buses (3 million euros), and other foreign institutions and funds have also been approached, explains Niko Natek. They also participate in the 'JIVE 2' project where a co-financing of at least 750 thousand euros is expected. They intend to use the knowledge acquired during the project and sell it to foreign markets, Natek added.
Examples of good practices in energy supply of Slovenian huts
As further explained by MSc. Tadej Auer, head of the RCVT that also organized the today's event, RCVT is in the process of an investment cycle that will reduce the dependence of two mountain huts on fossil fuels. He pointed out the aforementioned Pogačnikov dom (Kriški podi), where the total investment in sustainable energy supply amounts to 28 thousand euros, which includes photovoltaic power plant (9 kWe), batteries (6,400 Ah), and wind power plant (1 kWe). Others costs for logistics and site preparation amount to less than 3,000 euros, plus more than 200 hours of volunteer work by the alpine club Radovljica. The investment is part of the SustainHuts project co-funded by the LIFE program.
Mountain hut Kocbekov dom (Korošica) already received the investments and the home was retrofitted, but unfortunately it burned down only 6 days after the works were completed. The investment was around 33 thousand euros for photovoltaic modules (4.5 kWe) and batteries (19,200 Ah), other costs were close to 10 thousand euros (logistics, site preparation). An investment around 22,000 euros at mountain hut Valentin Stanic (Triglav) is planned in the next year, where a photovoltaic power plant (3.1 kWe), batteries (1,500 Ah) and a wind power plant (1 kWe) are planned, Auer explains.
Matej Planko from the Alpine Association of Slovenia (PZS) explained that out of 161 mountain huts and 17 bivouacs, only 84 are connected to the electric grid, 28 huts use power generators, 33 use photovoltaic, with six of these huts being powered solely by photovoltaic, and six huts utilize wind power. Matej Planko pointed out that mountain huts are generally very energy-wasteful when it comes to heating: in the mid-mountain range heating oil is used in 23 huts, gas in 10 huts, there is no exact information for the use of heat pumps, and some of the huts still use an electric stove for additional heating. We do not yet have exact data on the energy consumption of the huts, but in order to improve the environmental impact of the Slovenian huts, a consulting office was set up at PZS in 2011, and in 2017 the energy management was included in the tasks of the association, explains Planko. In 2012 they also started issuing green certificates, which are currently awarded to 29 mountain huts. According to Planko, they have an agreement with the Ministry of Economic Development and Technology (MGRT) for a tender in the amount of 5 million euros for energy and ecological renovation of huts. He also added that the activities of the consulting office and the operating seasons of mountain huts should be expanded into the winter season.
Cabling as a solution for mountain huts?
In the final debate 'How to achieve a sustainable energy supply of a sensitive mountain area?' it was pointed out by Mihael Žumer, a representative of electricity distribution company Elektro Gorenjska, that his company has some experience in the field of electrification of mountain huts. The propose the construction of underground cable networks (low- or medium-voltage) to power the huts while maintaining the appearance of the huts. Žumer added, that alternative energy sources have more detrimental effects on the environment, than digging a cable.
Asst. Prof. Mitja Mori (LTE – UL) agreed that cabling can be one of the sustainable paths of power supply to mountain huts; however, he also argued that this can cause excessive use of electricity and raises the question from which energy sources the electricity was produced from.
Cabling is not a solution for all huts, so we need to keep in mind the broader economic and environmental viability, added Dr. Marko Maver, the state secretary at the Ministry of the Environment and Spatial Planning (MOP). He also emphasized that it is up to alpine clubs to inform visitors why potential sustainable requirements in the huts cannot be fulfilled. Otherwise, the MOP performs so-called soft measures for sustainable development in the mountain world. For example, the ministry will participate in a large-scale action to make the Triglav National Park an area without plastics.
Matej Planko (PZS) stressed that they need to be heard more and also collaborate better with the state ministries. Certainly the use of aggregates should be kept to a minimum, and cabling may be just one of the possible solutions, he added. The Slovenian Environment Agency (ARSO) has commissioned a project to electrify certain huts in the Triglav mountains, but how to implement such ideas and measures to be in accordance with the environmental systems and regimes in force in the Triglav National Park is another story, said Planko.
Hydrogen can play an important role in restructuring of the coal region
The round table also included Iztok Mori from the municipality of Velenje, who said that the idea of hydrogen technologies in the given region is not new; it is at least ten years old, and currently the project is estimated at eight million. He added that green energy is not cheap but it is necessary and that this project represents the beginning of the transition of the Šaleška region from coal to a low‑carbon future in 20 to 30 years. Coal regions across Europe are already setting up different platforms to enable the EU to switch to green energy, and countries traditionally relying on coal, such as Poland, are also putting pressure on the European Commission to create a special fund for restructuring coal regions, he said. Dr. Marko Maver (MOP), agreed that hydrogen would play an important role in this restructuring.
If we produce electricity from hydrogen, we are also looking for solutions to how to use the electricity, explained MSc. Gorazd Ažman from Slovenia's electric power transmission system company ELES. He sees the potential for such electricity, especially in transport. Iztok Mori added that in the initial phase hydrogen will be produced from energy that is not completely green, but that hydrogen will certainly be produced from green sources in the future. Without broader public awareness we will not achieve the climate goals, nor in the area of home use or transport, nor in mountain huts. We must strive to reduce energy consumption in general, without that we will not achieve our goals, concluded Iztok Mori.