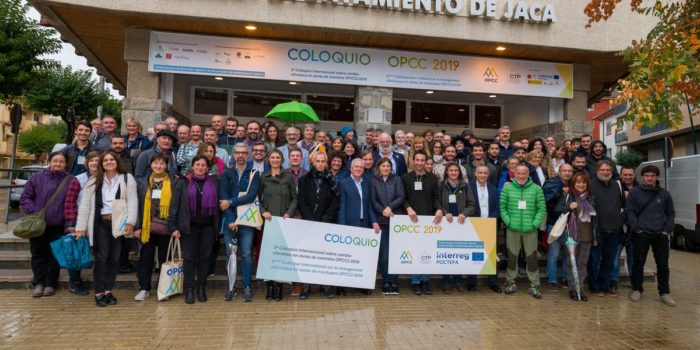 SustainHuts project takes part in the colloquium organised by the Pyrenean Observatory for Climate Change
The city of Jaca (Huesca) held, during the October 22th and 23th, the colloquium organised by the Pyrenean Observatory for Climate Change, where 5 European projects presented their results. SustainHuts project participated in the session about the CLIMPY project, coordinated by the University of Zaragoza.
It is widely known that mountain regions, such as the Pyrenees mountains, are especially vulnerable to the climate change effects, being affected their water resources, flora, fauna, and ecosystems. Thus, the Pyrenees Observatory for Climate Change, INTERREG POCTEFA 14-20 programme, organised the presentation of the results achieved by 5 European projects related to the Pyrenees area and whose consortiums are formed by Aragonese entities together with others from different French and Spanish regions.
During the first day, held in October 22th, the projects CLIMPY, REPLIM, CANOPEE, FLORAPYR and PIRAGUA were presented, tackling different topics related to the Pyrenees ecosystems. During the October 23th day, more institutional, different local, regional and national authorities from Spain, France and Andorra took part as well as representatives from European mountain areas, such as the Permanent Secretariat of the Alpine Convention or the Secretariat of the Carpathian Convention, among others.
Manuel Gutiérrez, from Aragon Hydrogen Foundation, represented the SustainHuts project and participated in the session focused on the CLIMPY project, whose main target is the analysis of the climate evolution as well as the information supply for the climate adaptation in the Pyrenean region. Thus, and regarding that 5 huts located in the Aragonese Pyrenees included in SustainHuts project, the knowledge about the climate evolution in the region is essential for the right sustainable management of the huts, making vital and constructive the collaboration and the networking between both projects, primarily in those which have been part of CLIMPY and SustainHuts, such as Góriz hut, providing the first project with weather data recorded and also improving its sustainability through renewable energies and energy efficiency.
Within the activities programmed about CLIMPY project, Roberto Serrano, from the University of Zaragoza, presented the main climate results obtained during the project as well as Ignacio López, from the Pyrenean Ecology Institute, presented those results related to the snow blanket evolution. After it, Ernesto Rodríguez (AEMET) and Jean Michel Souberyroux (METEO‑FRANCE) explained some conclusions about the possible future climate evolutions taking into account different decarbonisation scenarios. Finally, the day concluded with the presentation of the Sarrios‑Formigal weather station, carried out by Samuel Buisán (AEMET).