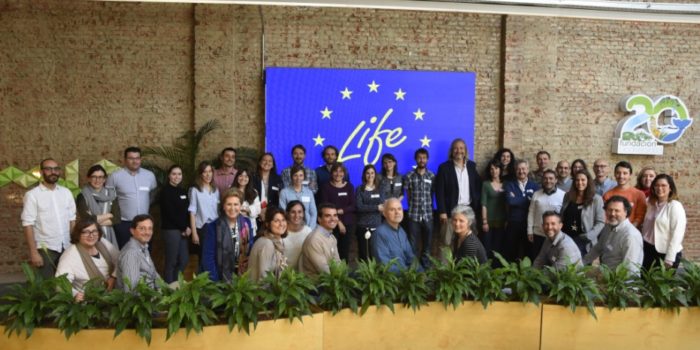 SustainHuts takes part in a LIFE projects symposium in Madrid
Aragon Hydrogen Foundation's members, coordinator of SustainHuts project, took part, on April 25th, in the symposium about LIFE projects related to climate change adaptation, where experiences and future opportunities were shared with similar projects in Spain.
One of the main objectives of LIFE projects is the replicability of the achieved results and the developed methodologies in other EU places, so interaction with other groups and projects is considered essential so as to share targets, difficulties or future prospects. Thereby, Aragon Hydrogen Foundation partners, representing LIFE SustainHuts project to improve the sustainability in European mountain huts, took part in the LIFE meeting organised for projects related to climate change adaptation in different Spanish and Europe locations. During the day, improvements applied in Pyrenean huts were presented as well as the milestones achieved for the future replicability of the project.
The event, held on last Thursday, April 25th, was organized by Fundación Biodiversidad in its offices located in Madrid, counting on the presence of 21 LIFE projects on different topics, all of them related with climate change adaptation.