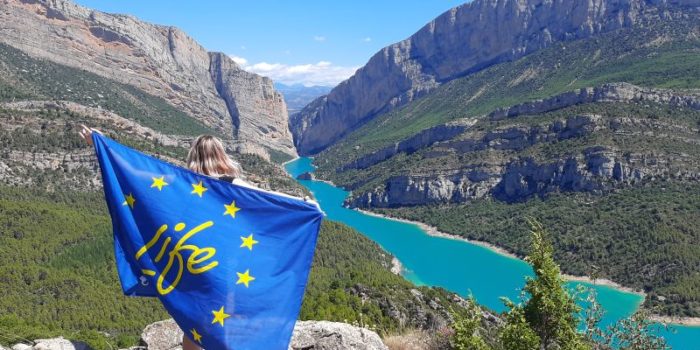 Intensive work during Summer 2021 on the twelve shelters that make up the LIFE SUSTAINHUTS project.
The consortium developing SUSTAINHUTS is formed by the Foundation for the development of new hydrogen technologies in Aragon (coordinator), the Aragonese Mountaineering Federation (Spain), the Italian Alpine Club Turin section (Italy), Environmental Park (Italy), the Slovenian Alpine Association, the Slovenian Centre for Hydrogen Technologies, the University of Ljubljana (Slovenia) and the French Federation of Alpine and Mountain Clubs (France). All of them have been working intensively during these months to prepare the refuges for the summer visits in all the huts that are part of the project.
This summer a lot of work has been done in all the installations, and all the technologies identified in previous stages are installed: photovoltaic, micro hydro power and wind energy generation, hydrogen technologies (fuel cell, electrolyser, hydrogen storage) as well as new insulation materials. All of them are  in the monitoring phase, and data is being collected during the last phase of the project (it ends in October 2021). The data will be analysed and compared with  the performance observed in previous years to analyse the impact of the technologies in the sustainability of the huts. Although the analysis is heavily influenced by the pandemic situation, which has caused a reduction in the opening periods of the hut and a dramatic drop in the in the amount of mountaineers making use of the installations, the impact of the technologies installed is becoming evident.