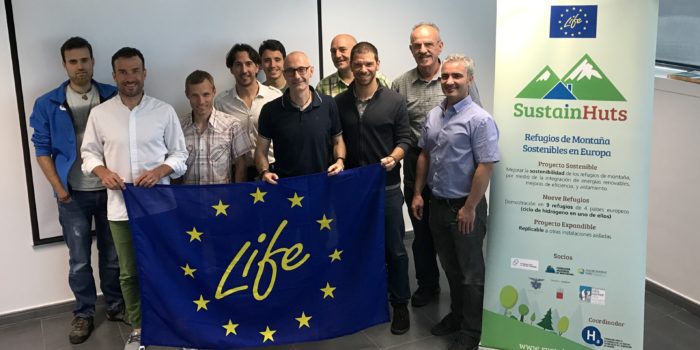 The SustainHuts Proyect achieves the objectives for their first year – FIRST ANNUAL MEETING
THE EUROPEAN PROJECT SUSTAINHUTS CELEBRATES ITS FIRST ANNUAL MEETING AT THE INSTALLATIONS OF ITS COORDINATOR, THE FOUNDATION FOR THE DEVELOPMENT OF NEW HYDROGEN TECHNOLOGIES IN ARAGON
On Wednesday, June 7, the Aragon Hydrogen Foundation hosted the first annual meeting of the LIFE SustainHuts project. A consortium formed by the Aragonese Mountaineering Federation, Alpine Club section Turin (Italy), Environmental Park (Italy), Slovenia Mountain Partnership, Slovenia Hydrogen Technology Center, University of Ljubljana (Slovenia).
The meeting of the SustainHuts project concluded the achievement of the main objectives foreseen for the first year that allow to confidently face the following phases. At present, there is a detailed knowledge of the current status of shelters under the project, and studies of renewable technologies to be implemented are being finalized, as well as actions aimed at improving efficiency in the use of energy in shelters .
Also, once the winter is over, access to shelters gets easier and allows to resume field activities. During the next few weeks, they will return to the huts of Bachimaña, Estós and La Renclusa to complete the installation of consumer measuring equipment, and in the case of Lizara and Llauset will be returned to collect and analyze the information of the equipment installed the year past. As for the two Slovenian shelters (Pogacnikov and Kocbekov) activities will also be resumed after closure during the winter months (they are closed almost 10 months a year). On the other hand, the Rifugio di Torino, although open all year, due to its high altitude (3300 m) still at this time with half a meter of snow on its deck, so the Italian partners will have to wait a while to be able to carry out the planned activities.
But not everything is positive news in the project. One of the partners, the Romanians of the University of Brasovia, have announced their official departure from the project. This decision is a consequence of the enormous difficulties that the Romanian partners have found, at the level of permits, to be able to implement the technologies provided in their Doftana Valley refuge, which in their case was a micro-hydraulic turbine. During the annual meeting, this issue was discussed in the consortium and a number of alternatives are being considered, including the integration of a new partner from a non-represented country or one of the partners incorporating a new refuge of similar characteristics to the Romanian refuge Leaves the project.