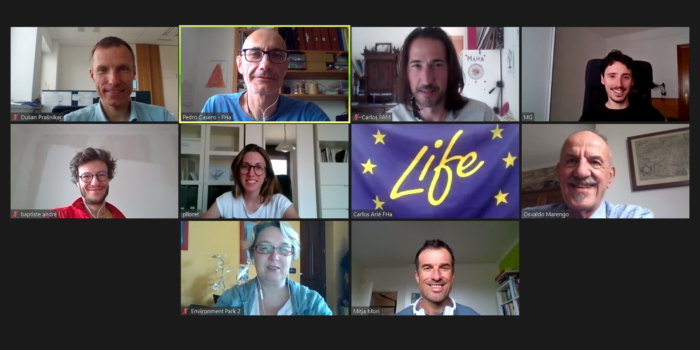 Partnerji Sustainhuts se sestanejo na letni skupščini projekta
V torek, 9. junija 2020, so se partnerji projekta LIFE SustainHuts sestali na letni skupščini projekta. Cilj tega srečanja je bil predstaviti napredek pri dejavnostih različnih partnerjev in pripraviti naslednje korake za prihodnje mesece.
Partnerji so tudi izkoristili priložnost, da ocenijo učinek zadnjih mesecev manjše dejavnosti zaradi pandemije COVID19 in obravnavajo omilitvene ukrepe. Pandemija je vplivala na namestitev nekaterih tehnologij, predvidenih spomladi, pa tudi na spremljanje delovanja obstoječih tehnologij. Partnerji si zelo prizadevajo uskladiti odprtje koč, predvidenih v naslednjih tednih, skupaj s pripravo del za čimprejšnjo namestitev preostalih tehnologij.
To je bilo prvo srečanje, v katerem je sodeloval novi konzorcij projekta, ki ga je sestavila Foundation for the Development of New Hydrogen Technologies v Aragonu (koordinator, Španija); Aragonska planinska zveza (Španija); Italijanski alpski klub, odsek Torino (Italija); Environmental park (Italija); Planinska zveza Slovenije; Razvojni center za vodikove tehnologije Slovenije; Univerza v Ljubljani (Slovenija) in Francoska zveza alpskih in gorskih klubov (Francija), ki so se projektu pridružili po odhodu Transilvanske univerze iz Brașova (Romunija).